Login
Log in if you have an account
Dont have an account? Register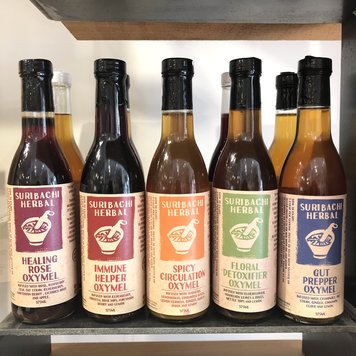 Suribachi Herbal
Oxymel 375ml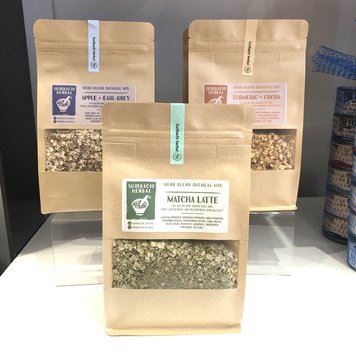 Suribachi Herbal
Oatmeal 300g
- Yuki studied western medicinal herbs, science of nutrition and Chinese clinical foods in her education. - She was a registered dietitian in Japan and is inspired by Japanese traditional holistic food culture with western medicinal herbs. 
- Her knowledge draws from I-SHOKU-DO-GEN (translation: Food and medicine are of the same origin. "You are what you eat.") 
- She has been working as a cook for many years in culinary industries such as fine dining, child care centers and health care facilities. 
-She is always seeking new ways to enjoy the tastes and health benefits of food, together. 
What is oxymel? Why is Oxymel good for you? How do you enjoy Oxymel? 
- Oxymel has: probiotic benefits for the gut, nutrients, Vitamins and Minerals...from herbs, spices and fruits. 
- Oxymel is a mixture of Apple Cider Vinegar and Honey, infused with medicinal herbs! Oxymel was traditionally an ancient herbal medicine and it was used as a home-remedy. It would be compounded with herbs specific to the ailment, much like a tincture. All ingredients are natural, it's a good healthy resource and has been used for a long time. 
- It could be a new herbal Drink for you as an alternative to an Herbal Tea.... It's suitable for kids, pregnant women and people who cannot consume alcohol, almost everyone can enjoy medicinal herbs as a cold drink. 
- It is good after/during exercise! Apple Cider Vinegar can reduce muscle tiredness and honey and herbs can charge your energy and minerals!! Oxymel is specifically made with RAW Organic Apple Cider Vinegar, it also contains RAW honey, which has long been used as a medicinal compound, due to its antimicrobial properties. 
Benefits: - Oxymel can be used in a variety of ways, including in cocktails, drinks, salad dressings, sauces and marinades. 
- Simply mixing 1-part Oxymel with 3 parts water or seltzer (for a drink with a similar level of sourness to Kombucha) 
- By mixing 3 parts Oxymel with 1 part of oil or mayonnaise, you can make a quick vinaigrette or dressing, perfect for salads and vegetable dishes. 
-Provided the Oxymel isn't boiled or heated to high temperatures, it can be used in many ways without affecting its properties. Healing rose: Nourishing and nurturing, this Oxymel is formulated with women's health in mind. This Rose petal and Oat straw infused oxymel calms the body and lifts the mood, whilst raspberry leaf, a known source of nutrition & iron, will help you feel comfortable and active.
 A red berry taste with top notes or Rose Petals.
Immune helper: This Oxymel is made with elderberry, hibiscus and rosehip, which are a good source of Vitamin C, and burst forth with a fresh berry taste! Equally at home as a punchy shot, or as a long cooler combined with a mixer like fiery ginger beer. A sharp but rounded Elderberry taste, with subtle honey sweetness.
Gut prepper: This Oxymel is infused with handfuls of chamomile flowers and brimming with punchy spices. Savor as an aperitif or digestif to calm your stomach before / after a meal. Moreover, before sleeping you can take it to ensure a good night's rest. 
Often described as having a "Christmas Spiced Taste", it also has a grassy, chamomile tone to it. 
Spicy circulator: This spicy circulation Oxymel is packed with herbs, vegetables and spices typically associated with improving body circulation! It's tangy and rich curry flavor will fill you with energy and you're cooking with zing! 
A robust spicy curry flavour, with strong Turmeric and Garlic flavours, followed by a modest heat.